BrainMatters is a creative platform for interactive projects that make use of Brain Computer Interface (BCI). BrainMatters was first launched during BrainTech conference 2013.
MUSES – a BrainMachine interface exhibition
The six muses are a link between a variety of creativities and inspirations.
BrainMatters returns to connect fields of creativity which have sadly grown apart – technology and art, spirit and matter, science and creation.
Nine Multi disciplinary teams have developed projects that make creative and investigative use of EEG headsets.
revolving around the human brain we investigate the apparent and questioned mysteries of mind.
In this exhibition artists, designers, musicians, engineers, programers and makers come together in order to create inspiring experiences. While art always aims to connect to an audience and have them reflect their thoughts and emotions while observing the art , in BrainMatters projects thoughts, feeling and brainwaves are reflected physically in real time and are embedded in the art using sound, visuals, sculpture, poetry and more.
Mentors & Curators – Zvika Markfeld & Saron Paz.
1.
BrainFeedBack – Shaul Tzemach
The work suggests an attempt to create synchronisation between the brain situation and the audio visual appearance. It builds connections and fluctuations between the user's desire to understand the mechanism, his wish to control it and the visual output and their mutual influences on each other.
Using values derived at different frequencies in the brain creates a space of different visual worlds with abstract images, geometric shapes, video and photo of the user in real time. Changes in values of certain frequencies or the relationship between them makes different manipulations of these worlds and changes the sound.
The work creates a correlation between the need for targeted perspective, the tendency of the brain to correct perspective distortions and the processes of adaptation and learning in order to reach the desired state individually appropriate.
2.
MindWave Pool – Chen Serfaty/ Avi Ostfeld/ Guy Ostfeld/ IIai Gilon/ Shimrit Tal
Experimenting with brain activity by applying it on a magnetic-sensitive pool, transforming one's EEG signals to visual-physical representations, allowing them to assume shape and perform movement. Design (with) your mind.
3.
MusiWave – Giori Politi/ Sharon Duek/ Jonathan Abramson/ Tom Gurion
Creating a musical soundtrack based on mind waves transmitted from an EEG headset. The generated musical line is parameterized according to levels of attention and meditation of the headset wearer, leading the listener to unexpected musical realms which somewhat correspond to his or her neuro-electric activity. One may try to attain control over the musical line and advance within it through deliberate control over levels of relaxation and concentration.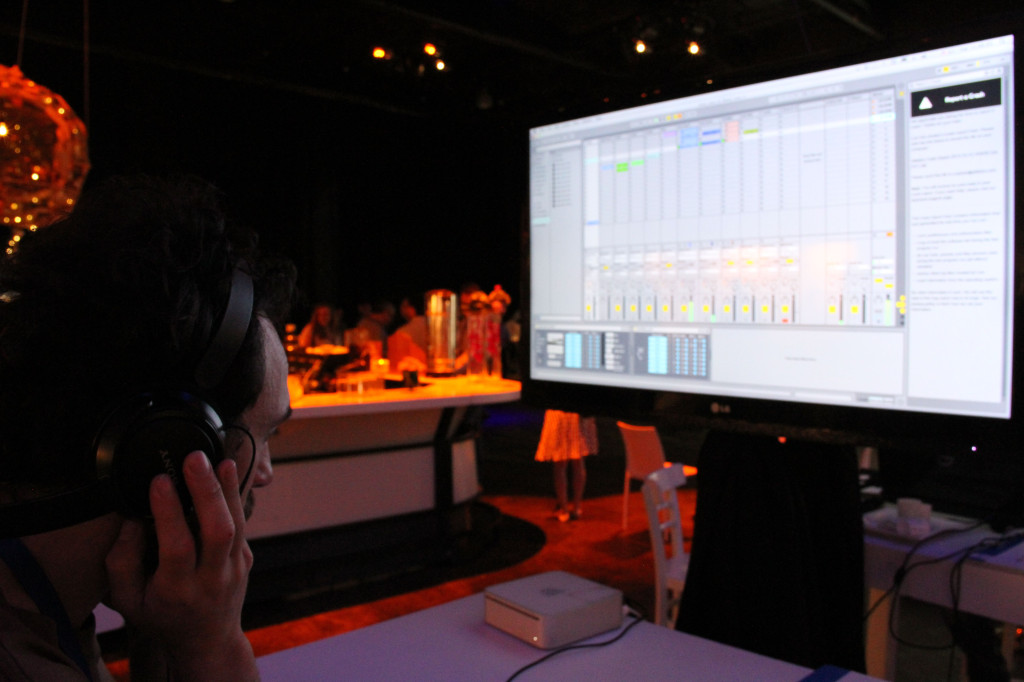 4.
MindYourPoem – Batt Girl/ Eran Hadas/ Eyal Gruss/ Gilat Parag/ Meron Sellem
"Mind Your Poem" aims to create computer generated poems, based on a person's state of mind. The user is provided with brain sensor headsets, and the interactive poems are formed instantly to reflect their brain activity. The project mimics the creative process of a poet by mining the brain to illustrate emotional content. It manifests how technology can provide insight into our inner-selves, "the last human frontier".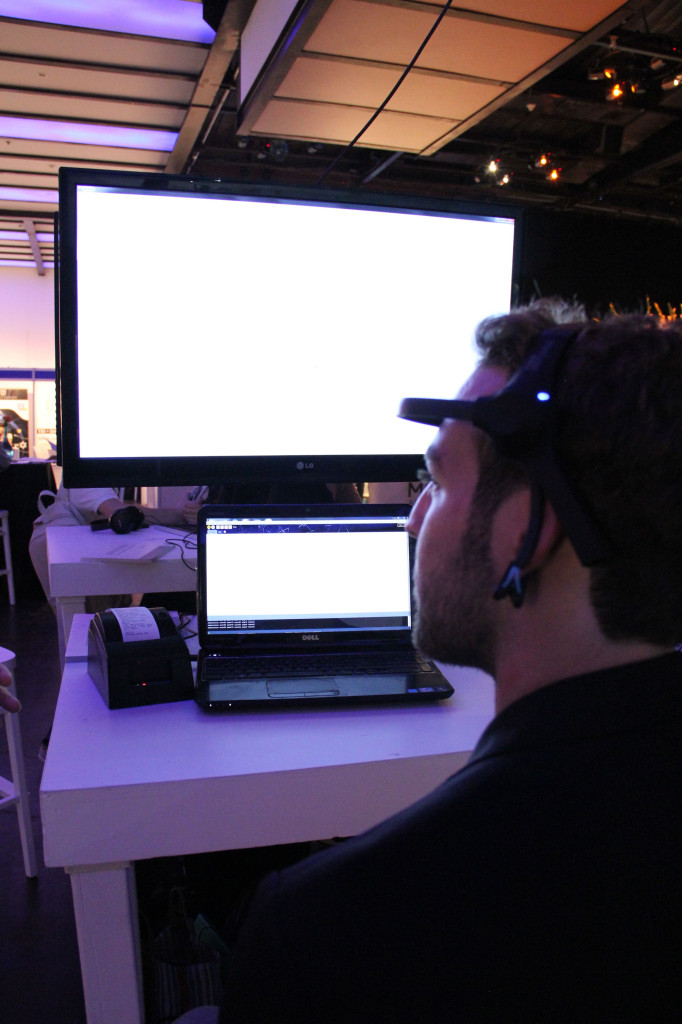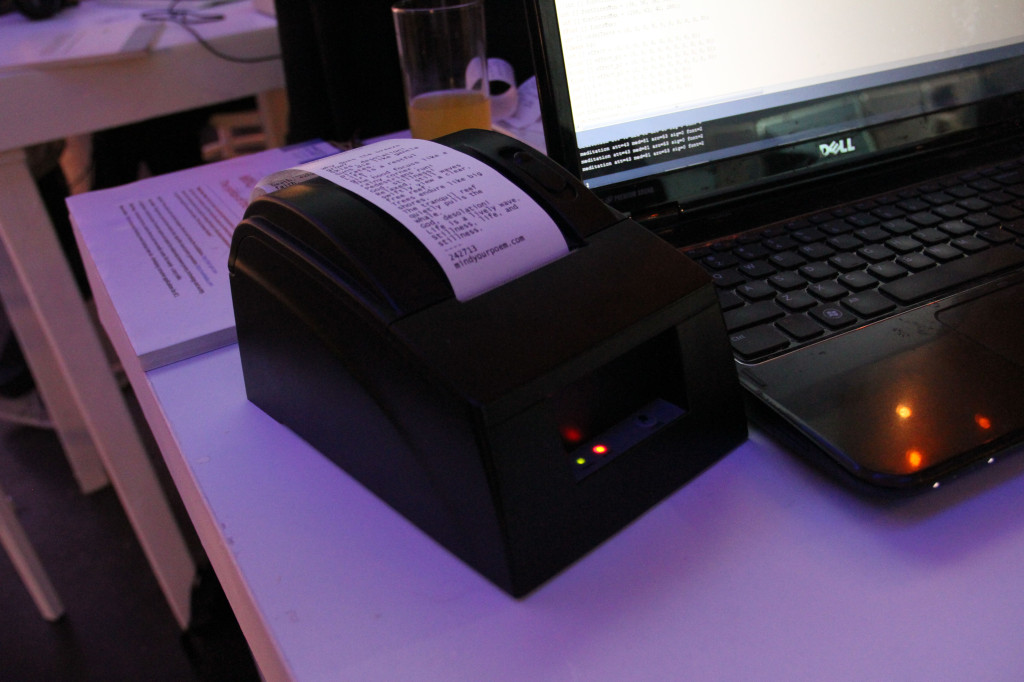 5.
Neurotic Draw-Bot – Miriam Kreisler/ Tom Mayblum/ Tom Sofer
Drawing robot which interprets a portrait according to the EEG readings of the user – If the user is suffering (or enjoying) a state of reduced attention, it will be depicted graphically within the portrait.
6.
Real Life EEG: Towards Emotional City Mapping – Boris Oicherman/ Vienne Chan/ Zachi Dinar
An artist working in public space always relies on one's own intuition and knowledge of the area. But what if an artist would have a methodology and the technology to learn how the streets feel like to their regular users – the city inhabitants? The development of low-cost portable EEG devices can possibly provide the basis of such technology, as they allow reading the EEG data in a non-intrusive way, outside of the laboratory, as people wearing them while commute in the city. This project is an initial step in exploring this possibility. We measured the EEG signals of four people, as they move along the route from the hipster Rothshild street area, through the parking lot, a busy junction, a street full of brothels, to the Neve Sheanan street occupied mostly by African immigrants. We hope to be able to continue this research on a larger scale in the future.